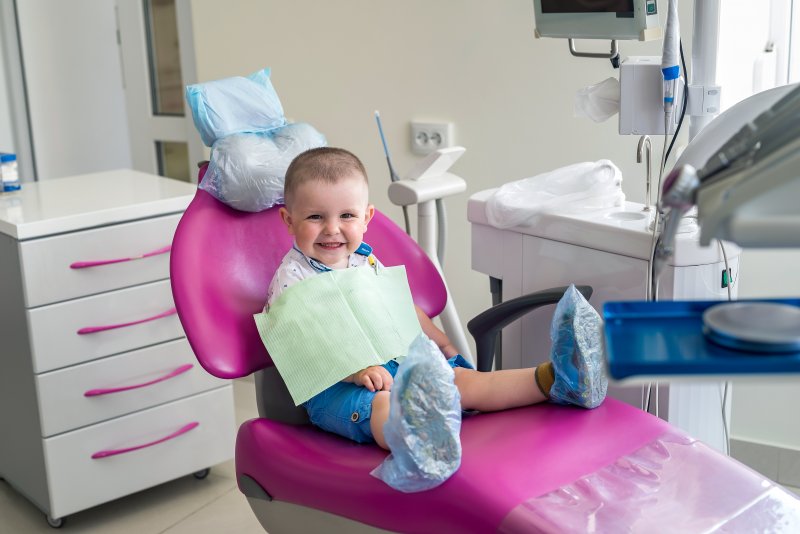 Has your child had a dental appointment yet? It's usually recommended to set up the first visit to a children's dentist in Sycamore no later than your little one's first birthday. These early visits can set the tone for your child's dental health later in life, and as a parent they can save you a lot of time, money, and worry. Below are 3 important advantages that you'll enjoy when you begin pediatric dental care as soon as possible.
1. Your Child Will Be Less Likely to Develop Cavities
Cavities do not have to be part of childhood, there are many ways parents can reduce or even eliminate the occurrence of cavities. Studies have shown that the longer parents wait to bring their children in for their first dental appointment, the more likely their little ones are to suffer from tooth decay. A child who first visits the dentist at five years old is 20 times more likely to have a cavity than a child who has been seeing a dentist since the age of one. Making sure that regular cleanings are a part of your child's life from the beginning could potentially save them from painful oral health issues in the future.
2. Your Child Will Be Introduced to Good Oral Hygiene Early
Visiting a dental practice regularly gives your little one a chance to grow accustomed to the sights and sounds of a dental environment. Giving them positive experiences with the dentist early in life can make them more open to dental care later on, meaning future appointments will be easier for everyone involved. This also ensures that they'll start learning about the importance of regular dental cleanings and good oral hygiene as soon as possible so that they can start learning the correct habits.
3. You'll Get Professional Care Tips Straight from the Experts
Until your child is old enough to take care of their own smile, you'll need to take responsibility for brushing and flossing their teeth. A dentist will be able to give you tips on the best strategies for taking care of your little one's teeth and how to identify potential problems. They can also advise you on the kinds of foods that could potentially put their smiles at risk. (In general, you want to stay away from any foods that are too sugary or starchy.)
It's generally recommended to schedule a first dental visit around your child's first birthday or within six months of them developing their first teeth. Take note of any dental concerns you have before then and be sure to ask about any follow-up treatments that might be necessary. Just like with adults, children are more likely to keep their smiles healthy and intact when they receive preventive care sooner instead of later.
About the Practice
At Grand Dental – Sycamore, our friendly dental team offers a wide variety of services meant to help keep the youngest members of your family smiling comfortably through every appointment. We can also refer you to the Grand Dental Group's pediatric dentist if your child needs a specialist. To schedule your little one's first appointment, visit our website or call (815)240-8660.